Viewing Statistics
Articles View Hits

274240
Home
WELCOME TO THE ROTARY CLUB OF COOROY
Sunshine Coast Hinterland Queensland, Australia
Sgt. Ryan Hanlon, the winner of the camper trailer raffle

The Rotary Club of Cooroy presented Sgt. Ryan Hanlon, the winner of the camper trailer raffle, with his prize at the Eumundi Police Station. He was planning a camping trip with his kids over the holidays. Now he has a wonderful camper trailer. Thank you to the local generous donor of the Trailer and to everyone who purchased tickets. All proceeds will be donated to local good causes including our local Rural Fired Brigades who have recently worked so hard to keep us safe.
---
You know how when you:-
Hear about disadvantaged people and natural disasters around the world and you have the skills and enthusiasm for problem solving and would like to help.
Well, what Rotarians do is:-
Donate knowledge and experience to organise events, raising funds and working on site with victims to relieve suffering and making the world a better place.

Meeting weekly here in Cooroy with like-minded people, Rotarians have the expertise and contacts to make things happen. We are supporting local charities, helping to eradicate polio worldwide, we're providing disaster relief, improving youth opportunities locally and globally, and having a great time doing so.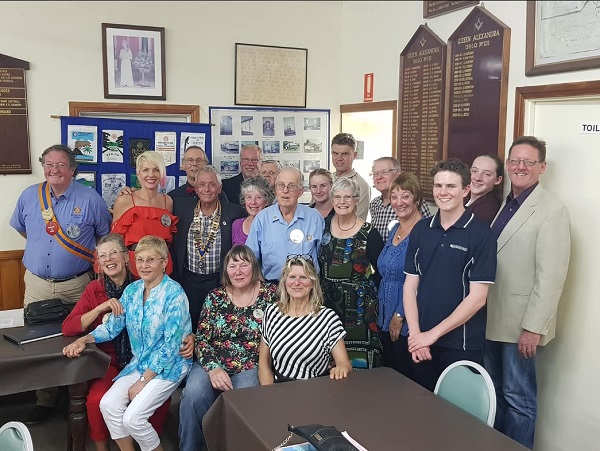 ---
If you should like to use your skills and talent to make our community better, call Warren 0404 887 171 or Andrew 0421 407 097 or visit us Monday evenings at the Cooroy Masonic Hall, Elm Street  
Meeting time 6.00 pm Mondays (excluding public holidays)
Masonic Hall, 58 Elm Street, Cooroy 
Text or Telephone to check please Warren 0404 887 171 Andrew 0421 407 097
Optional evening dinner 7.45 pm