Viewing Statistics
Articles View Hits

370884
Home
WELCOME TO THE ROTARY CLUB OF COOROY
Sunshine Coast Hinterland, Queensland, Australia
Rotary Vision - Together we see a world where people unite and take action to create lasting change - across the globe, in our communities and in ourselves 
---
PRIDE IN WORKMANSHIP AWARDS 2023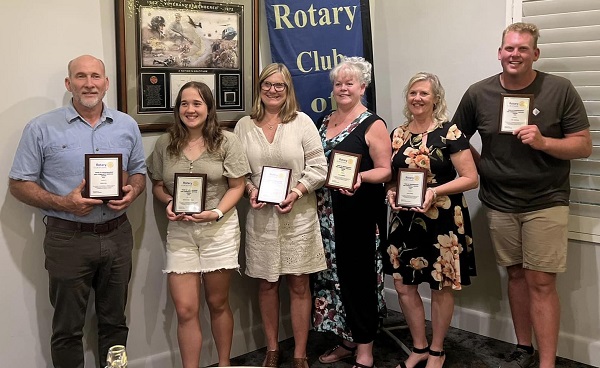 On Monday 17 April the Rotary Club of Cooroy was delighted to honor six local people who consistently give that special extra in their career. The event was held at the Cooroy RSL who provided exemplary service and food in keeping with the spirit of the awards.
This year awards were presented by President Elect Chris Durie to; (L to R)
Kevin Delley, Andrew's A Grade Mechanical - Hayley Kirkpatrick, Cooroy Butchery and Smokehouse - Helen Hollingworth, Cooroy RSL - Tania Stewart, Live Life Pharmacy Cooroy - Cathy Breed, Cooroy Landscape Supplies - Carl Chapman, Andrew's A Grade Mechanical.
The Pride of Workmanship Awards event is one of the highlights of our Rotary year when we take the opportunity to recognise individuals who instinctively produce outstanding service to their customers and contribute to the quality of life we enjoy in this community. 
---
Defibrillator – Black Mountain Community

On Sunday, 23 April members of the Rotary Club of Cooroy officially handed over a defibrillator to members of the Black Mountain Road community isolated as a result of last year's landslide that has caused emergency response times to increase significantly.  Residents have been concerned that such delays could be a matter of life and death, especially for someone suffering a major episode such as a heart attack.
With the road forecast to remain closed for some considerable time, travel time for emergency vehicles has increased from around10 minutes to 30 minutes in the event of a 000 call.  With the kind permission of local residents Owen and Amy Langley the defibrillator has been strategically located where it can be accessed 24/7.  Its use could be critical while awaiting an emergency response from an ambulance.
The Club is pleased to have been able to help with funding from the Noosa Council through the jointly funded Australian and Queensland Government Disaster Recovery Funding Arrangements.
---
 Meeting weekly here in Cooroy with like-minded people, Rotarians have the expertise and contacts to make things happen. We are supporting local charities, helping to eradicate polio worldwide, we're providing disaster relief, improving youth opportunities locally and globally, and having a great time doing so.
 
If you should like to use your skills and talent to make our community better,
call Andrew 0421 407 097 or Glenis 0408 968 353
or visit us Meeting time 6.00 pm Mondays (excluding public holidays)
 Cooroy RSL, 25 Maple St, Cooroy QLD 4563 
 


Optional evening dinner