Viewing Statistics
Articles View Hits

271898
Home
WELCOME TO THE ROTARY CLUB OF COOROY
Sunshine Coast Hinterland Queensland, Australia
REMEMBRANCE DAY 11 November 2019


President Warren honoured to present a wreath on behalf of the Rotary Club of Cooroy at the remembrance service at the cenotaph
ROTARY YOUTH PROGRAM OF ENRICHMENT (RYPEN)
 
Cooroy Rotary was delighted to sponsor Lateisha Hurst and Nicole Barker, students at Noosa District State High School, to attend ROTARY YOUTH PROGRAM OF ENRICHMENT (RYPEN). RYPEN is a 2.5 day residential experience, where participants are involved in a variety of sessions, workshops and activities providing an opportunity for them to develop personally, challenge themselves, build friendships with like-minded people, and build life skills. Speaking to Club members Lateisha and Nicola explained how they had developed awareness in areas such as: leadership, working in a team, communication, decision making, building relationships and contributing to community and also RYPEN was about having fun!
---
POLIO ERADICATION - TRAIN RIDE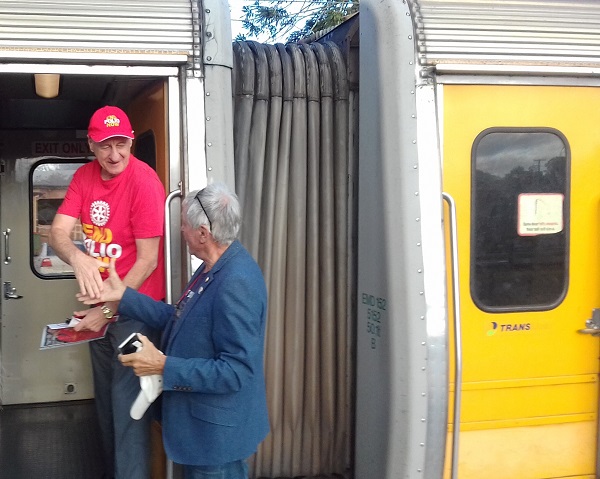 The Rotary Polio Train Ride making 221 Station stops in 1 day passed Cooroy on 24 October when Cooroy Rotary President Warren O'Neill presented a cheque to Eric Wood for Rotary Polio Eradication. Polio was once a disease feared worldwide, striking suddenly and paralysing mainly children for life. Rotary launched PolioPlus in 1985 and was a founding member of the Global Polio Eradication Initiative in 1988. Through decades of commitment and work by Rotary and our partners, more than 2.5 billion children have received the oral polio vaccine reducing polio by 99%. Polio now survives only among the world's poorest and most marginalised communities, where it stalks the most vulnerable children. The Initiative's goal is to reach every last child with polio vaccine and ensure a polio-free world for future generations.
Final figures now in - Over $30,000 for Polio Eradication from 221 Rotary rail station ride. - We are so close to eradication BUT Polio remains endemic in three countries – Afghanistan, Nigeria and Pakistan. Until poliovirus transmission is interrupted in these countries, all countries remain at risk of importation of polio, especially vulnerable countries with weak public health and immunisation services.
---
You know how when you:-
Hear about disadvantaged people and natural disasters around the world and you have the skills and enthusiasm for problem solving and would like to help.
Well, what Rotarians do is:-
Donate knowledge and experience to organise events, raising funds and working on site with victims to relieve suffering and making the world a better place.

Meeting weekly here in Cooroy with like-minded people, Rotarians have the expertise and contacts to make things happen. We are supporting local charities, helping to eradicate polio worldwide, we're providing disaster relief, improving youth opportunities locally and globally, and having a great time doing so.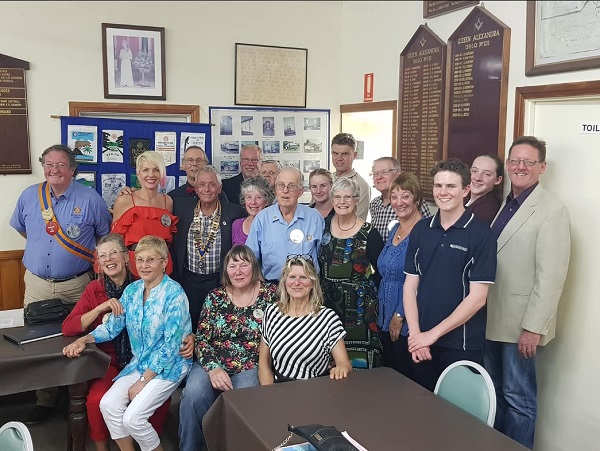 WIN A CAMPER TRAILER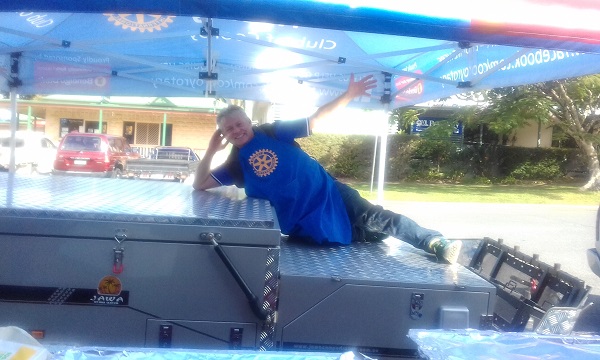 ---
If you should like to use your skills and talent to make our community better, call Warren 0404 887 171 or Andrew 0421 407 097 or visit us Monday evenings at the Cooroy Masonic Hall, Elm Street  
Meeting time 6.00 pm Mondays (excluding public holidays)
Masonic Hall, 58 Elm Street, Cooroy 
Text or Telephone to check please Warren 0404 887 171 Andrew 0421 407 097
Optional evening dinner 7.45 pm