Viewing Statistics
Articles View Hits

321996
Home
WELCOME TO THE ROTARY CLUB OF COOROY
Sunshine Coast Hinterland, Queensland, Australia
Rotary Vision - Together we see a world where people unite and take action to create lasting change - across the globe, in our communities and in ourselves
---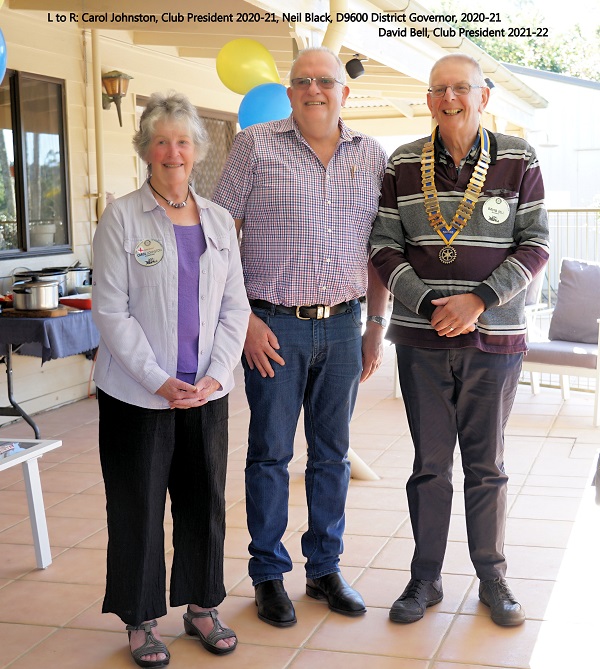 David Bell, new President of the Rotary Club of Cooroy, priority is to see the Club continue to support those organisations within our community who rely on external resources to enable them to provide their valuable services to those less fortunate than most.  This will be through both financial and in-kind support.  The Club will continue to support other worthwhile local community and educational entities, as well as international projects such as Rotary's efforts to stamp out malaria.
After being cancelled last year due to Covid, the immediate focus for the Club will be to stage our major fund-raising event, the Cooroy Mountain Spring Festival on 22 August.  Of course, our famous BBQs will still be held regularly to raise additional funds to support our causes.
Another major objective is to recruit new members to replace those who, for various reasons, have left the Club over the past year or so.  My aim is to undertake a membership drive as soon as possible. 
---
 
The Rotary Club of Cooroy were joined by Eumundi Rotary Club members for a visit to McDermott Aviation and to enjoy a fantastic guided tour of this wonderful local Cooroy facility. Cooroy Rotary are extremely lucky to have the support of McDermott Aviation at our Cooroy Mountain Spring Festival on Sunday 22 August 2021. 
COOROY MOUNTAIN SPRING FESTIVAL
6.30 am - 3.00 pm Sunday 22 AUGUST 2021
---
Meeting weekly here in Cooroy with like-minded people, Rotarians have the expertise and contacts to make things happen. We are supporting local charities, helping to eradicate polio worldwide, we're providing disaster relief, improving youth opportunities locally and globally, and having a great time doing so.
---
 
If you should like to use your skills and talent to make our community better, call David 0457 646 290 or Andrew 0421 407 097
or visit us Meeting time 6.00 pm Mondays (excluding public holidays)
 Cooroy RSL, 25 Maple St, Cooroy QLD 4563 
 


Optional evening dinner