COOROY MOUNTAIN SPRING FESTIVAL
6.30 am - 3.00 pm Sunday 18 AUGUST 2019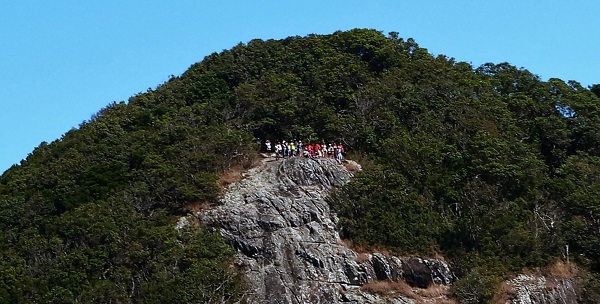 The once a year opportunity to climb Cooroy Mountain
courtesy of Peter Lavin of Wimmers and Cooroy Mountain Spring Water
Almost $30,000 was raised for good causes from the Cooroy Mountain Spring Festival 2018
 Join the Rotary Club of Cooroy for a family fun day at the Cooroy Mountain Spring Festival; 6.30 am to 3.00 pm on Sunday 18 August 2019. Still only $10 (children age under 12 free). You can come along and enjoy a fun day of music, a kids' activity centre, food and market stalls stroll through the rainforest and have this once-a-year chance to climb Cooroy Mountain.
Warren O'Neill, President of the Rotary Club of Cooroy said: -
"This is a wonderful opportunity to enjoy a Sunday morning walk and get a view of our beautiful countryside from the top of Mount Cooroy. We are very grateful to our main sponsors, Cooroy Mountain Spring Water for providing access to the mountain, McDermott Helicopters who will provide short flights over the mountain."
One hour will be ample time to walk to the top up a rocky track; a hundred metres from the top, there is a rocky slab with some great views to the West over the sunny coast hinterland and further up on the south eastern side of the summit there are views to the East from the sand patch beyond Lake Cootharaba down the Sunshine Coast to Mount Coolum.
Carol Johnston, Event Organiser said:
"Before you start, enjoy billy tea and damper and a hearty BBQ breakfast and when you return sit and listen to wonderful stories from the bush while entertainment will be provided by the wonderful local Pineapple Crush Ukulele Band singing well-known songs with their own arrangements, presenting great harmonies and toe tapping rhythms and beats."
Thanks to McDermott Aviation, for only $55 you will be able to take a short flight over the Mountain and see spectacular views of Cooroy, Lake MacDonald and surrounding hinterland. Last year thanks to the generosity of visitors to the Festival the Rotary Club of Cooroy was able to donate over $30,000 to good causes including local disability support group, Sunshine Butterflies based in Tewantin, Queensland Drought Appeal, Cooroy SES and Black Mountain Rural Fire Brigade and many more.


SEE COOROY MOUNTAIN FROM THE AIR
Thanks to McDermott Aviation, for only $55 you will be able to take a short flight over the Mountain and see spectacular views of Cooroy, Lake MacDonald and surrounding hinterland
Another chance to buy raffle tickets for a camper trailer worth $21.225