COOROY MOUNTAIN SPRING FESTIVAL




6.30 am - 3.00 pm Sunday 22 AUGUST 2021



COVID REGULATIONS PERMITTING

ALL PROCEEDS TO GOOD CAUSES
Main beneficiary - Sunshine Butterflies,
our local disability support service
The once a year opportunity to climb Cooroy Mountain
courtesy of Peter Lavin of Wimmers and Cooroy Mountain Spring Water 

The Cooroy Mountain Spring Festival will be held on Sunday 22 August 2021 at the Cooroy Mountain Spring Water Factory 314, Cooroy Mountain Road Cooroy 4563.
There is plenty of parking on site for a gold coin donation and the price has been held at $10 per person for entry to the Festival - children age under 12 free. Closed walking shoes are required, sun screen and back pack to carry water recommended. Sorry, no dogs are allowed.
The first climbers set out at 6.30 am and it takes about one hour to reach the summit at a reasonable pace. Last climb starting at 1.00 pm with the festival closing at 3.00 pm.
There is a rain forest walk with observation trail for youngsters and a tractor hay ride from the rain forest to the 'Base Camp'.
Food and community stalls and entertainment will be provided throughout the Festival and there is an opportunity to see the mountain from the air with a helicopter ride provided by McDermott Aviation for an additional $55 per person. Booking taken on the day, first come first served.
All net proceeds from the Festival will be donated to good causes with local disability support group, Sunshine Butterflies, as the main beneficiary.
We look forward to seeing you, your friends and families on the day.
Helicopter Flights around the mountain
 
 Food and Drink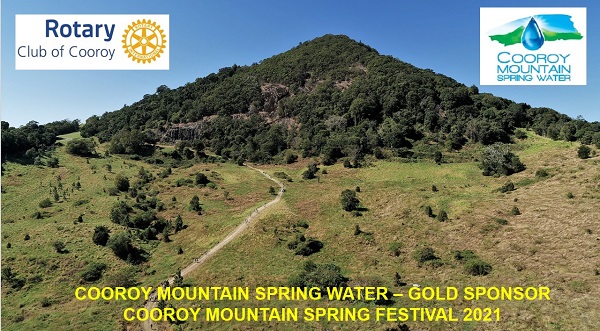 WIN GREAT PRIZES

in our

HELICOPTER BALL DROP RAFFLE

15,000 ft Tandem Skydive

SKYDIVE AUSTRALIA

 

Cruise for two with welcome drink

CATALINA

 

Noosa Civic Pack

NOOSA CIVIC

 

Music and Movement Pack and Lessons

Age 0 - 5 years

MINI MAESTROS

 

Kids Birthday Party

SUNSHINE BUTTERFLIES

 
NOTICE
Sites available for food, market and community stalls
For more information and application forms
---